Drop Zone Distilling, LLC History
Welcome To Drop Zone Distilling
From a US Paratrooper to a TN State Trooper and now he's the man behind the Mason Jars!
The founder of Drop Zone Distilling is Rod "Sarge" Parton, who is a 4th generation moonshiner with family recipes going as far back as 1934 belonging to his great-grandpap. Rod spent 28 years in law enforcement and 3 years as a firefighter where he was on the dive and recovery team in Blount Co., TN. Rod also spent 8 years in the US Army as a Paratrooper with the 82nd Airborne Division and is a Gulf War Veteran, thus the company name, Drop Zone Distilling!
Rod started working on going legal with their products and recipes in 2019 with Trademarks and Logo's. They opened on Veteran's Day, Nov. 11, 2022 after many delays and supply chain issues. Rod has a Master Distiller, Ross Miller who is working with him and here they make moonshine, whiskey, bourbon, vodka, and rums. His distiller, Ross, has won several gold and silver awards with his rum and vodkas that he produced while he was working in a previous distillery. Rod is on a journey to introduce everyone to the real authentic unadulterated taste of hand-crafted Moonshine made famous from the back hills of Pittman Center, TN by his great-grandpap in the early 1930's. Drop Zone plans to bring something different to the industry and they plan to stay true to the heritage of his product and not sell out like all the other commercialized distilleries have. Rod has secured a warehouse in the South Knoxville area where they can produce, bottle, label, and ship from. In this location they will bring the experience from the mountains of East TN to Knoxville where everyone who visits must currently drive to Sevier Co. to experience. Drop Zone Distilling will offer tours of their facility and explain the process of making mash the old mountain way all the way down to the bottling and labeling process. Thus giving them the title of, "KNOXVILLE'S FIRST MOONSHINE DISTILLERY"!!
Drop Zone Distilling is currently looking to expand in 2024 to the West Knoxville area where they want to open a distillery and eatery. This would make "Drop Zone Distilling and Chow Hall" the first Moonshine Distillery in the City of Knoxville. Rod chose to break out of the over crowed venue of distilleries in Sevier Co., and bring something new to Knoxville. Our plans for this area will include a venue for music and events as well as 2 tasting pods and a full bar. We will also have a small kitchen and we will offer simple southern comfort foods like your grandmother used to make.
Their current warehouse distillery is located at 806 E. Gov. John Sevier Hwy. This it is not only a production area but they also have a tasting bar and a retail area for purchase of their products and merchandise. Here they will host events like Jeep, motorcycle, and car club get togethers where there will be food trucks and cocktails on hand for these events. Drop Zone Distilling had 3 specialty brands of their products which are getting a lot of attention, these 3 are special labels that are tributes to our Military, Law Enforcement and Firefighters. These products are part of their give back program where a percentage of the sales will go back to the charities that support each label, such as… Wounded Warrior Project, Folds of Honor, Thin Blue Line of Tennessee, and Tunnels 2 Towers.
Rod has plans for the fall of 2023 to roll out their first Whiskey and Bourbon Whiskey and American Single Malt under the name, "The Jumpmaster's Reserve" to honor his family heritage in the liquor making and military tradition. Rod follows in his grandfather, great uncle and uncle's footsteps of military service. His grandfather served in WWII and this great uncle who unfortunately didn't return from that war. Rod's Uncle was a Top Gun Fighter Pilot in the Navy during the Vietnam War. Their first runs are already in the barrels and their Gold Medal Award Winning Rye and Legacy Moonshine will soon be able to be enjoyed as a whiskey.
Thank you for taking a moment to learn about Rod's history and his vision for Drop Zone Distilling. Rod looks forward to meeting everyone when they visit. When you do visit, you will find the founder, Rod "Sarge" Parton working in the back just like everyone else! Rod said its just like when he was in the military he doesn't expect anyone to do anything that he is not willing to do himself. You must lead your troops by example, from the front, not the rear!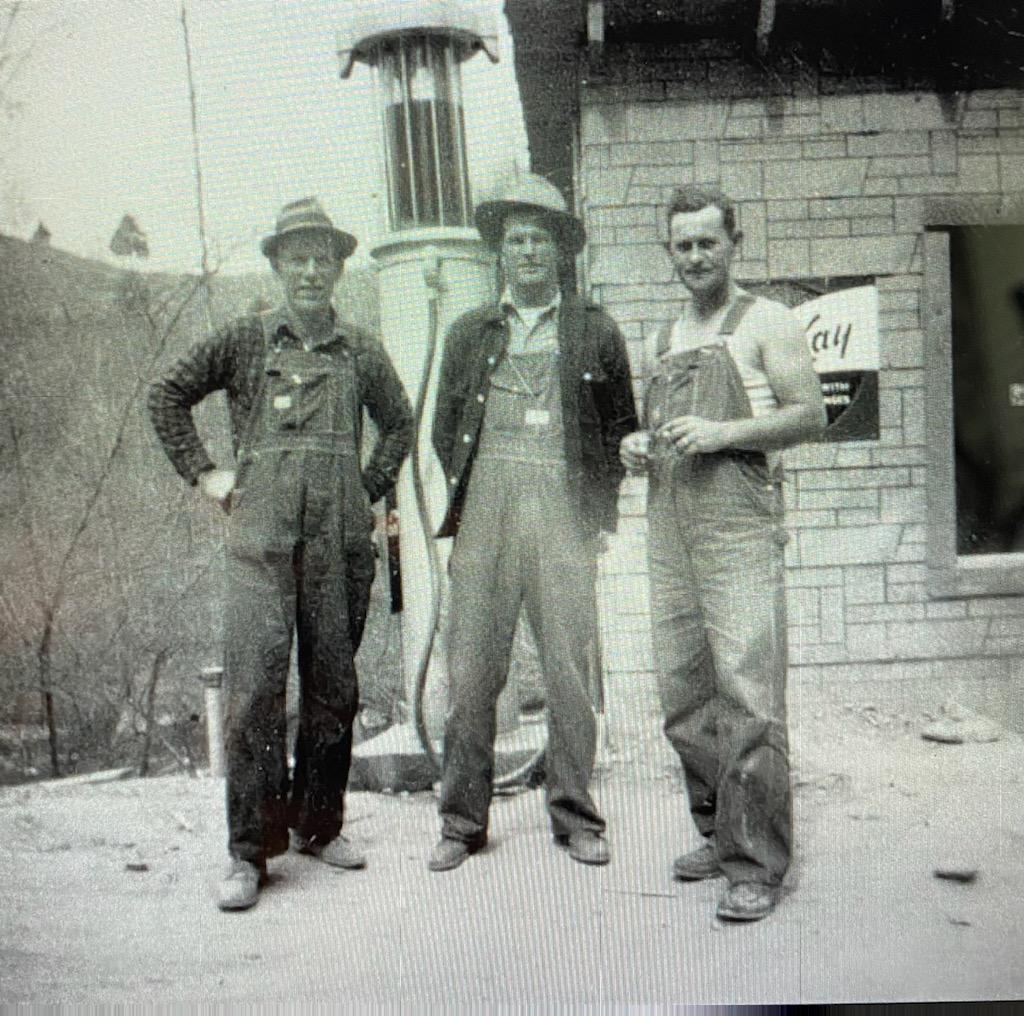 Great-grandpap and Papaw Parton with an old bootlegger. Rumor is he drank more than he delivered!
Papaw Parton with Granny Parton.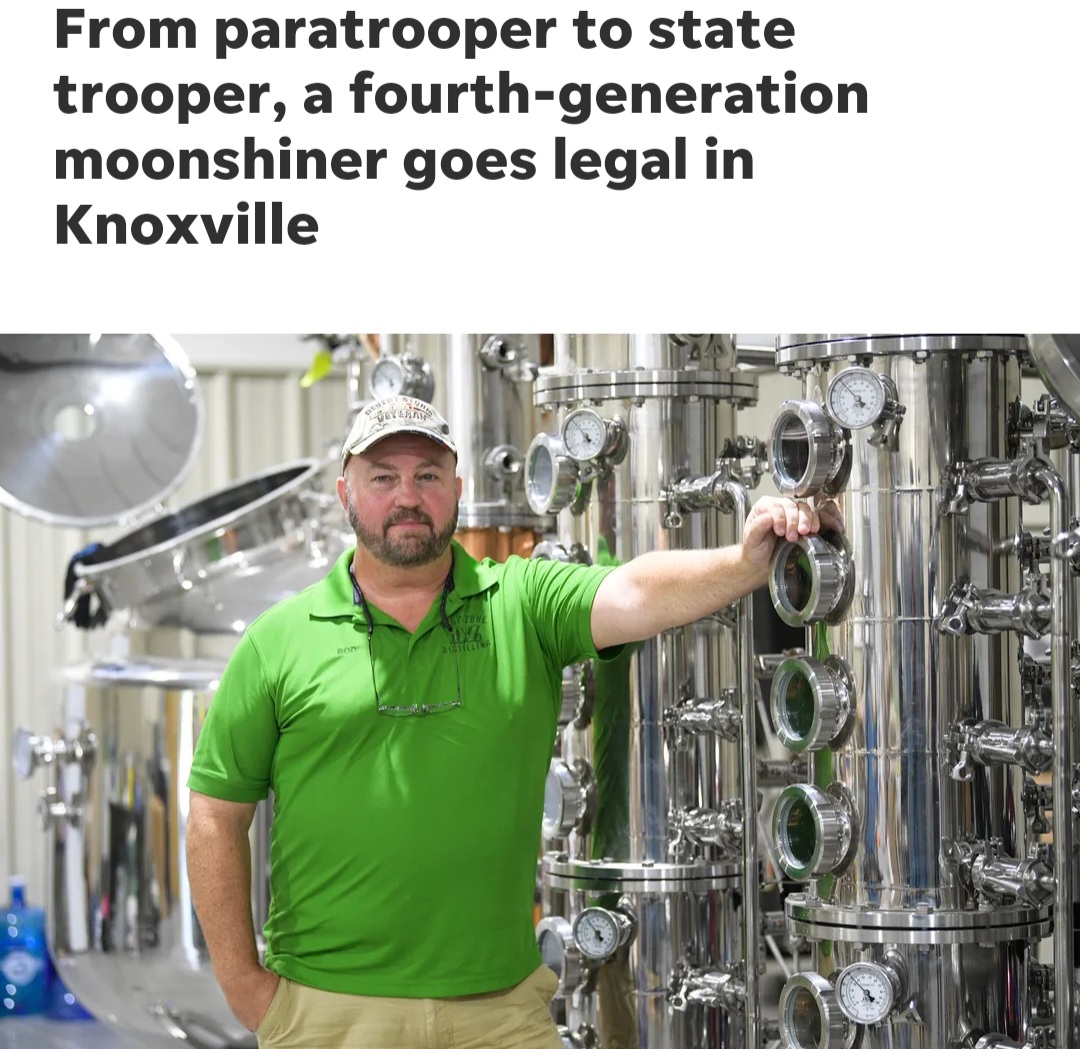 Rod Parton – Founder of Drop Zone Distilling.